Editor:
V. Dimov, M.D.
, Allergist/Immunologist, Cleveland Clinic Florida, Clinical Associate Professor, FAU Charles E. Schmidt College of Medicine
Angioedema is a swelling that is similar to hives, but the swelling is under the skin instead of on the surface.
Hives (urticaria) and angioedema
The Food Allergy and Anaphylaxis Emergency Care Plan by FARE is
available here
. Click here for
En Español
.
How to use EpiPen
(video)
Allergic Reactions
Allergic Skin Conditions
Allergy Testing
Food Allergy
Angioedema (AE) Classification (click to
enlarge the image
)
Diagnosis of Chronic Urticaria and Angioedema
(click to enlarge the image).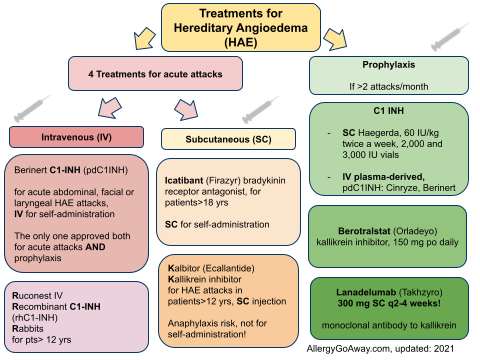 Treatments for Hereditary Angioedema (HAE) (click to
enlarge the image
).
What to expect when visiting an allergy clinic
Current allergy skin tests are virtually painless.
This video
by Dr. Bassett, a board-certified allergist from New York City, shows what to expect when visiting an allergy clinic for diagnosis and treatment:
Related reading:
Questions to ask if a patient has a suspected episode of anaphylaxis
Classification of urticaria: overview
. Allergy, Asthma & Clinical Immunology 2011, 7(Suppl 1):S9.
Published: 06/28/2007
Updated: 08/26/2016