Editor-in-Chief
Ves Dimov, M.D.
Dr. Dimov is an Allergist/Immunologist, Cleveland Clinic Florida, Clinical Associate Professor, FAU Charles E. Schmidt College of Medicine. He is an internationally known expert who serves in several leadership positions at the World Allergy Organization (WAO) and the American Academy of Allergy Asthma and Immunology (AAAAI). He is the Editor-in-Chief of WAO TV, and writes a monthly asthma column distributed by WAO to 30,000 members. Dr. Dimov has published more than 140 scientific papers, book chapters and abstracts, including the WAO Anaphylaxis Guidelines. He is the founder of internationally acclaimed websites, such as AllergyGoAway.com and PeriopMedicine.org, which have received more than 10 million page views, and are hyperlinked in the websites of 37 medical schools.
ClinicalCases.org is an online case-based curriculum of clinical medicine, which has had more than 6 million page views since 2005. ClinicalCases.org is hyperlinked in the web sites of 37 medical schools in the U.S., Canada, South America, Europe and Asia, and is integrated within the web sites of Cleveland Clinic. The project was featured and referenced in 14 peer-reviewed medical journals and other scientific publications including, British Medical Journal (3 times), Journal of the American College of Cardiology, Journal of the American Society of Nephrology, Cleveland Clinic Journal of Medicine, Student BMJ, Medical Journal of Australia, Clinical Infectious Diseases, BMC Education, Journal of General Internal Medicine, Journal of Medical Internet Research, Nursing Education Perspectives, Baylor College of Medicine Web Digest and Medscape (2 times). It was also featured by the The Los Angeles Times and Reuters. The project was presented at multiple national and international scientific meetings.
View board certification status: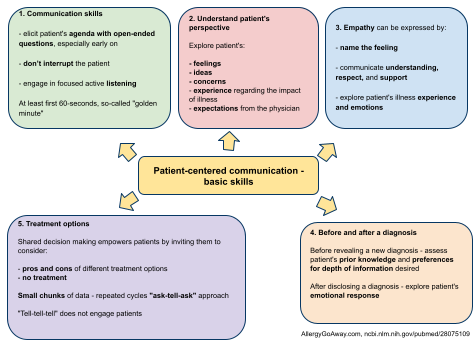 Patient-centered communication - basic skills (
click here to enlarge the image
).
Senior Editor
Shahid Randhawa, M.D.
Allergist and Immunologist, Assistant Professor of Medicine and Pediatrics at NSU, Fort Lauderdale, Florida
Dr. Randhawa is also a Senior Editor of
ClinicalCases.org
.
Faculty Advisers:
(in alphabetical order)
Againdra K. Bewtra, M.D., Professor, Creighton University Division of Allergy & Immunology
Adrian M. Casillas, M.D., Allergist and Immunologist, Texas
Jeffrey R. Stokes, M.D., Professor of Medicine, Creighton University Division of Allergy & Immunology
Raoul L. Wolf, M.D., Professor of Pediatrics, Section Chief, Asthma, Allergy and Immunology, University of Chicago
Russell J. Hopp, D.O., Ph.D., Professor, Creighton University Division of Allergy & Immunology
Sami Bahna, M.D., DrPH, Professor of Pediatrics & Medicine, Chief of Allergy & Immunology Section, Louisiana State University Health Sciences Center (Shreveport), Vice President of ACAAI
Thomas B. Casale, M.D., Professor of Medicine, Executive Vice President of AAAAI
Editor
s
T. Hoai Nguyen, M.D., Allergist/Immunlogist, Sacramento, California
Manbir Sandhu, M.D.
Allergist/Immunologist, Vancouver, Canada
Slavi Filtchev, M.D., Ph.D.
Chairman, Department of Pediatrics, 5th City Hospital, Medical University Sofia, Sofia, Bulgaria
Contributors
Daniel Ramirez, M.D., Allergist/Immunologist, San Antonio, Texas
Ravi Gutta, M.D.
Allergist and Immunologist, California
Bassem Chahine, M.D.
Allergist/Immunologist, Miami, Florida
Priya Warrier, M.B.B.S.
Allergist and Immunologist, San Diego, California
Ramnath Hebbar, M.D.
Gastronterology Fellow, Yale New Haven Health System
Disclaimer and Terms of Use Agreement


This Terms of Use Agreement (this "Agreement") is entered into by and between Vesselin Dimov, M.D. (the "author") and "you," the user of this web site (the "site"). Access to, use of and/or browsing of the site is provided subject to the terms and conditions set forth herein. By accessing, using and/or browsing the site, you hereby agree to these terms and conditions.
All opinions expressed here are those of their authors and not of their employer.
Information provided here is for medical education only. It is not intended as and does not substitute for medical advice. If you are a patient, please see your doctor for evaluation of your individual case. Under no circumstances will the authors be liable to you for any direct or indirect damages arising in connection with use of this website. Patient data published on this website does not reflect any real-life patient cases, and if partial information is used, it is modified to protect patient confidentiality in strict compliance with HIPAA. Cases course and description do not follow real cases.
The appearance of external hyperlinks to other websites does not constitute endorsement. We do not verify, endorse, or take responsibility for the accuracy, currency, completeness or quality of the content contained in these sites.
Report a suspected HIPAA violation to allergycases@gmail.com.
Purpose of this web site
AllergyCases.org is a free online case-based curriculum of allergy and immunology for Fellows-in-Training (FITs), medical residents and students. Accessed at http://allergycases.org, the web site is supported by faculty and fellows from the University of Chicago, Cleveland Clinic, Creighton University Division of Allergy and Immunology, and the Allergy and Immunology Section of Louisiana State University Health Sciences Center (Shreveport).
The Fellows-in-Training are invited to discuss the diagnosis and management of the clinical cases in small teaching groups and in the online comments section. The goals of the web site are:
- to enhance patient care skills of allergists/immunologists, FITs and other trainees and health care providers
- to enhance the preparation of the FITs for the American Board of Allergy and Immunology exam by adding an interactive case-based resource to the available resources.
The educational value of the cases is enhanced by succinct clinical notes, visual mind maps and mnemonics.
This web site is intended for medical professionals but can also be accessed by the general public. The information provided here is made available by the authors for educational purposes only and is not intended to provide medical advice. By accessing the web site, the visitors acknowledge that there is no physician-patient relationship between them and the authors. The web site should not be used as a substitute for competent medical advice from a licensed physician.
It is designed to support, not replace, the relationship that exists between a patient/site visitor and his/her physician. If recommendations or claims about nutrition, exercise or any other scope of healthy behavior or about any method or therapy are made, their source (original publication or the author's personal opinion) is clearly stated. Every post is linked to its source of information. Any kind of information posted on the web site is referenced and properly dated.
Privacy
This web site does not collect any personal information about its visitors and readers. It does not apply cookies. The use of this web site is logged by visitors statistics software such as Google Analytics or SiteMeter. This enables us to know, for example, the country of origin of a user, and which external site has referred someone to this web site. This information is kept permanently for use in web site administration and research. It is kept secure and confidential and is only used by web site staff.
Disclosure of funding sources
This is a private web site receiving no funds from a third party. Free hosting is provided by the Blogger.com platform owned by Google, Inc.
Advertising policy
This web site may display advertising through the Google AdSense program (automatically generated) or other parties. The inclusion of third party advertisements does not constitute an endorsement, guarantee, warranty, or recommendation. The author makes every effort to distinguish advertisement, if present, from the editorial content by appropriate labeling. Our editorial content is free of any commercial influence.
Links to other web sites
This web site may contain links to third party web sites. These links do not represent a guarantee, warranty, or recommendation by the authors of this web site or an indication of any affiliation, sponsorship or endorsement of such third party web sites. The authors of this web site are not responsible for the content of linked third party web sites.
Commenting policy
This web site has an open comment policy. All reader comments that are offensive to other readers will be deleted. Spam comments and those that are commercial rather than informative in nature will be deleted.
Published: 07/07/2007
Updated: 04/01/2014