Editor:
V. Dimov, M.D.
, Allergist/Immunologist, Cleveland Clinic Florida, Clinical Associate Professor, FAU Charles E. Schmidt College of Medicine
The
Food Allergy and Anaphylaxis Emergency Care Plan
by FARE is
available here
.
Click here for En Español.
Tips for managing food allergy
(
MJA, 2004
):
- Always carry an epineprine auto-injector (EAI)
- Always read food labels
- Ask questions about food preparation (be aware of the risk of cross-contamination)
- No label/don't eat
- No Epi/don't eat
- Tell friends about a serious food allergy
- Tell friends if feeling unwell, especially after eating
Eleanor Garrow
, Vice President of Education and Outreach for FAAN, talks about living with food allergies, 2010.
FAANPAL
| 2010 | A presentation of food allergy basics by Eleanor Garrow, Vice President of Education and Outreach for FAAN.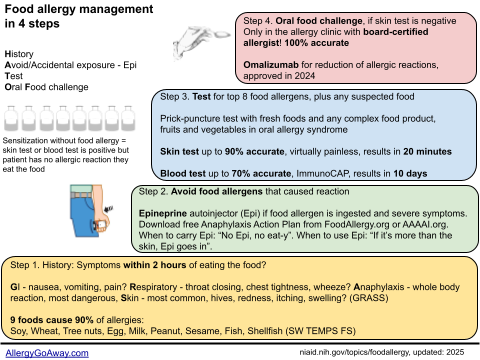 Food allergy management (
click to enlarge the image
).
Related information
Food Allergy Information from ACAAI
Free pamphlets (brochures) from National Institutes of Health -
Publications Order Form
.
Food allergy and anaphylaxis training - free at
AllergyReady.com
Managing Food Allergy - COFAR video
, 2012.
Food Allergy: An Overview for Patients
(PDF)
Guidelines for the Diagnosis and Management of Food Allergy in the United States: Executive Summary of the NIAID-Sponsored Expert Panel Report
(PDF)
Videos from the KFA channel on YouTube
-"Kids With Food Allergies"
Cetirizine is better than diphenhydramine (Benadryl) in the treatment of acute food-induced allergic reactions.
JACI, 2011
.
Published: 02/12/2011
Updated: 10/04/2019